How to Turn On LG TV Without Buttons?
When you buy through our links, we may earn an affiliate commission.
Getting a brand new LG Smart TV is definitely exciting. But, before you can watch your favorite shows, you need to turn on your LG TV and start setting it up.
Do All LG TVs Have a Power Button?
Finding the power button on an LG TV can be difficult. On newer models, LG has made their TVs' power buttons very hard to find.
But, whether you have a whole control panel of buttons or just a single button, there is a power button on your LG TV. The location will vary by model, but these are the most common:
The left or right back side of the TV
The middle or left underside of the bezel
The left or right side of the front of the bezel
The newest LG TV models only have one button, which you can press in different areas to control different functions, similar to a joystick on a game controller.
Press the button once to turn it on, then use the different edges to navigate through different screen controls.
How to Turn an LG TV On or Off Without a Power Button
Even if you can't find it at first, all LG TVs have a physical power button. However, there are a few ways you can turn your LG TV on or off without using the power button.
Some of the ways you can turn an LG TV on or off without touching the TV include:
The LG TV remote control
The LG ThinQ app
A universal remote
Alexa or Google voice commands
Third-party device controllers
LG Remote Control
Of course, the easiest way to turn your LG TV on or off without pressing the button on the TV is by using the remote control that comes with your TV.
Just press the power button, and your TV should turn on or off whenever you want it to.
LG ThinQ App
The LG ThinQ app, formerly known as the LG TV Plus app, is available for download on both the Apple App Store and Google Play Store.
In my opinion, this is the best way to control your LG TV without a remote. After connecting the LG ThinQ app to your TV, you can use your phone to turn it on and off and control all the other on-screen functions.
Your TV must be on to connect to the LG ThinQ app the first time. Use the power button this one time, then follow the steps below:
Turn on your LG TV.
Make sure your TV and phone are on the same Wi-Fi network.
Open the app.


Press the "+ Add a Device" button.


Follow the prompts on the screen and tap "Next."


Navigate to the home appliance section
Choose the TV option.


Wait a few seconds as it locates your TV.

Choose your TV.
Enter the verification on the TV's screen into the app.
Choose "Move to Home."
Now, you can open the LG ThinQ app and turn your TV on remotely.
Universal Remote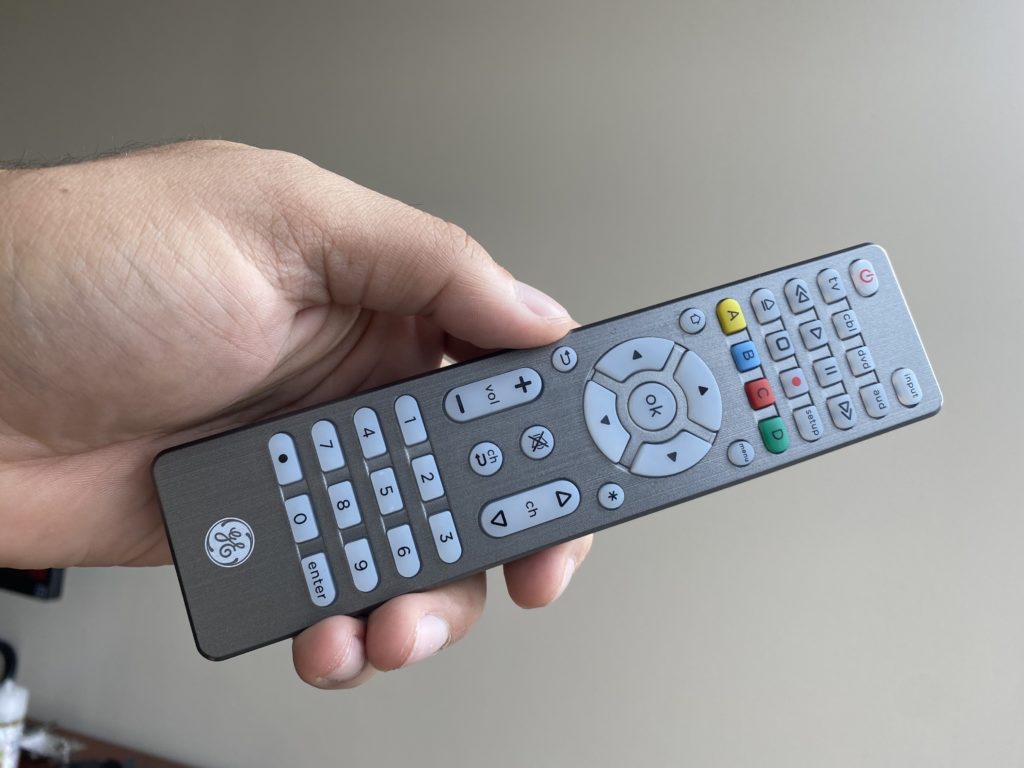 If you don't have the remote control that came with your LG TV, a universal remote is the next best way to turn on an LG TV without using the power button.
There are tons of compatible universal remotes available. To start using one, all you need to do is enter the correct code and pair it to your LG TV.
Alexa or Google Voice Commands
Many new smart TVs, including some LG TVs, have smart voice assistant compatibility.
This means you can pair your TV to the Google Home app or Amazon Alexa app and control it with a single command.
As long as your LG TV was made in or after 2018 and running WebOS 4.0 or higher, it's compatible with Alexa. Select models running WebOS 4.0 or higher are also compatible with Google Home.
Connect an LG TV to Amazon Alexa
If you have an Echo Dot, Echo Show, or any other Alexa-enabled device, as well as an Alexa-compatible LG TV, you can turn it on or off through Alexa voice commands.
Note: You will need to create an LG account before you begin. You can do this in the LG ThinQ app or from your TV by navigating through "Settings," "General," and "Account Management."
Open your LG TV's Home menu and select "Set Up TV for Alexa."
Follow the on-screen steps to register your TV with Alexa.
Open the Alexa app on your smartphone.
Tap "More," then select "Skills & Games."


Search for "LG ThinQ."


Enable the Skill.
When prompted, sign in with your LG account.
Once your Alexa and LG accounts are connected, select "Add Devices" and find your LG TV.
Finish the connection process following the on-screen steps.
Once your LG TV is connected to Alexa, you can say, "Alexa, turn LG TV on" to turn your TV on, or "Alexa, turn LG TV off" to turn it off.
Use the Google Assistant on Your LG TV
If you use the Google Home or Google Assistant app to control other smart home devices, adding your compatible LG TV to the list is a great idea.
Connect your TV to the LG ThinQ app.
Open the Google Home app on your smartphone.
Tap the "+" icon and choose "Set Up Device," then "Works with Google."
Search for and tap "LG ThinQ."
Open your TV's Settings menu, then navigate through "All Settings," "General," and "Account Management."
Sign into your Google account.
Use your smartphone's camera to scan the QR code on your TV and click the link that appears. You should get a "Success! Device connected." message.
Open the Google Home app, then find and select your LG TV.
Tap "Remote" and input the pairing code displayed on your TV.
Now, you can use the commands "Hey Google, turn on LG TV" and "Hey Google, turn off LG TV."
Third-Party Device Controllers
Even though LG Smart TVs have a huge library of apps to download, some people like to keep a streaming device connected.
Roku, Fire TV, and Apple TV devices all come with a remote. You mainly use this remote to control your streaming device's screen, but with a quick couple of steps, you can also set them to power your LG TV on or off.
Use a Roku Remote to Turn an LG TV On or Off
After initially setting up a Roku device and connecting it to your LG TV, you can follow these steps to set the remote to control your LG TV's power and volume:
Press the Home button on your Roku remote.
Scroll to the left-side menu and select "Settings."
Press "Remotes & Devices" and choose "Remote."
Select your Roku remote from the list, then press "Set up remote for TV control."
Follow the on-screen prompts.
Once the remote is paired to your TV, you can turn the volume up or down or power it on or off.
Use an Apple TV Remote to Power an LG TV On or Off
Like Roku, you can use an Apple TV remote to control certain LG TV functions. Here's how to get started:
Open your Apple TV's Settings and select "Remotes and Devices."
Toggle "Control TVs and Devices" on.
Go to your LG TV's Settings menu and select "Connection."
Press "Device Connection Settings."
Enable "Auto Device Detection," "SIMPLINK (HDMI-CEC)," and "Auto Power Sync."
This will allow you to control most of your LG TV's functions, including power on/off, with your Apple TV remote.
Use a Fire TV Remote to Turn an LG TV On or Off
You can't control as many LG TV features with a Fire TV remote as you can with an Apple TV remote, but you can control much more than you can with a Roku remote.
For example, Roku doesn't allow you to use their remote to control soundbars or external speakers. Fire TV remotes, on the other hand, do.
These steps work for all Fire TV devices, including FireSticks.
Open your Fire TV's Settings.
Press "Equipment Control."
Select "Set Up Equipment."
Select "LG" as your TV brand.
Your Fire TV should automatically detect and pair with your LG TV. If not, it may prompt you to "enter advanced setup."
Control Your LG TV with an Xbox One Controller
The last third-party device you can use to turn your LG TV on or off is, surprisingly, an Xbox One controller.
You can't use the controller to change the volume or channel, but you can use it to power your TV on or off.
Turn your Xbox One on.
Open your Xbox Settings.
Select "TV and OneGuide."
Press "Device Control" and select "LG."
Choose "Automatic" and press "Send Command." This will mute the TV.
If the TV mutes successfully, press "Yes."
Tap the "B" button on your controller, then select "Power Settings."
Press "Xbox One turns on and turns off my devices."
Now, as long as your Xbox is on, you can use it to power your LG TV on or off.
Frequently Asked Questions
LG TV isn't Turning On with Any Method
If you can't get your LG TV to turn on, no matter how you try to do it, it's likely a symptom of one of these three things:
Damaged wires
A hardware failure
Power supply issues
Whatever the cause may be, there are ways to troubleshoot and, hopefully, fix it. In the worst-case scenario, you'll need to replace your TV.
Do LG TVs Only Have a Power Button on Them?
The buttons your LG TV will have varies from model to model. Some feature one button that controls everything, while others include separate buttons for:
Power
Menu
Input
Volume up
Volume down
Channel up
Channel down
To learn more about what buttons your LG TV has, find the model number and consult the product listing on the LG website.
Can You Use the LG ThinQ App to Turn Other LG Appliances On and Off?
You can control all LG smart appliances with the LG ThinQ app, including:
TVs
Ovens
Vacuums
Dishwashers
Refrigerators
Dehumidifiers
Air conditioners
Washers and dryers
Related Articles
Keep Reading