12 Best Smart Home Gifts for Dad in 2023
When you buy through our links, we may earn an affiliate commission.
If your father spends a lot of his time managing the household and is looking for a way to make it easier, a smart device could be the perfect Father's Day gift — even if he's not particularly tech-savvy.
Here are 12 of the best smart home gifts for dad in 2023!
1. The Schlage Encode or Encode Plus
Kicking off our list of tech gifts for dad is a smart lock. Dads are usually the protectors of the house, and one of the most convenient ways to keep your home safe is with a smart lock.
One of the best smart locks available is the Schlage Encode or Encode Plus. Both let you remotely lock and unlock your door, assign unique access codes to different visitors, and get inside your house without using a key. 
But, the Encode Plus has the added benefit of HomeKit compatibility. Your dad can connect it to his iPhone or Apple Watch, then hold his phone or wrist up to the door to unlock it instantly. 
The Schlage Encode is an excellent choice if your dad is a stickler for keeping the doors locked.
2. A SwitchBot or SwitchBot Hub
If your dad loves the idea of home automation but doesn't want to upgrade all his appliances, a SwitchBot could be the perfect gift.
The SwitchBot is a smart switch flipper that can be connected to anything he presses a button to turn on. This includes:
Light switches
Computers
Thermostats
Coffee makers
With a couple of SwitchBots, your dad can connect all his daily necessities to a makeshift smart home hub that allows him to operate them directly from his phone. SwitchBots even come in your choice of black or white to match the switch they're connected to!
3. TP-Link Kasa Smart Light Switch
It's no secret that electric bills pile up unexpectedly, and you can probably remember more than a few times when your dad started complaining about you leaving your bedroom light on.
If your dad's just as concerned about his electric bill as mine, get him a smart light switch for Father's Day.
My favorite is the TP-Link Kasa Smart Light Switch. After installing the smart switch, your dad can set timers for different lights, turn them on or off using the Kasa app, and even connect it to his favorite voice assistant.
The standard Kasa Smart Light Switch is compatible with Alexa and Google Assistant, and there's a model that also works with HomeKit.
4. Traeger Pro 575 Pellet Grill
Some of my best memories with my dad are helping him man the grill during summer barbecues. Even though some people may think smart home gifts only apply indoors, there are plenty of ways to extend your smart home outdoors — like with a smart grill.
Manning the grill is an exclusive title to hold, and your dad will have no problem perfecting his next barbeque with the Traeger Pro 575 Pellet Grill.
You can use any brand of pellets with this grill, and your dad can cook burgers and hot dogs as he always has.
But, he'll have the benefits of monitoring the temperature of his grill and inside his food, and setting timers from the Traeger app.
5. A Blink or Ring Doorbell
A Blink or Ring Doorbell is one of the best tech gifts for dads. When you dip your toes into smart home devices, a Ring or Blink Doorbell is often one of the first things you purchase.
Even the least tech-savvy fathers secretly wish they had a video doorbell to monitor their front door. If you know your dad could benefit from one of these smart doorbells but won't go out and purchase one himself, get him one for Father's Day!
Blink Doorbells are more affordable than Ring Doorbells, but in my opinion, Ring beats Blink out. 
| | | |
| --- | --- | --- |
| | Blink Video Doorbell | Ring Doorbell |
| Installation options | Wired or wireless | Wired or wireless |
| Wi-Fi connection | 2.4 GHz only | Varies by model. Ring Doorbell 3, 3 Plus, 4, Pro, and Pro 2 support both 2.4 GHz and 5 GHz. |
| Field of view | 135° horizontal, 80° vertical | 155° horizontal, 90° vertical |
| Will it ring inside the house? | If hardwired, connected to a Blink Mini, or connected to Alexa. | If hardwired, connected to Alexa, or connected to Ring Chime or Ring Chime Pro. |
| Motion detection | Yes | Yes |
| Two-way talk | Yes | Yes |
Both are great options, but unless your dad is just beginning to build his smart home starter kit, I'd recommend Ring due to its more advanced features and range of doorbell options.
6. Universal Remote Control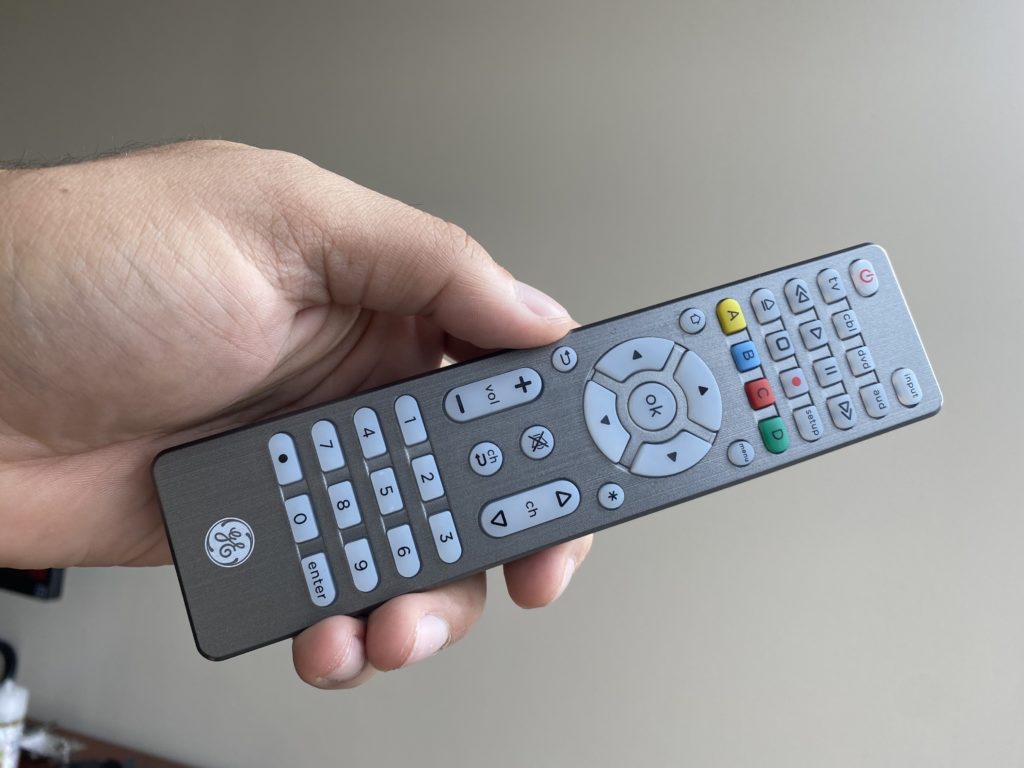 My dad has a TV in nearly every room of the house. That's a lot of different remote controls to keep track of, so why not make things simple with a universal remote control?
Universal remote controls work on nearly every TV, making them ideal smart home gifts. All you have to do is input the correct code to start using it!
If your dad isn't a big technology person, you could even set it up for him ahead of time. Here are all the codes you could need:
Once you know your code, here's how you pair it:
7. myQ by Chamberlain Smart Garage Door Opener
The garage is every dad's happy place. Maybe it's where he parks his beloved convertible or his workshop where he spends time with friends on the weekends.
If your dad is protective over the garage and always needs the door closed, the myQ Smart Garage Door Opener is perfect.
With this smart garage door opener, your father can open and close the garage from his phone, monitor the interior and exterior with a camera, and more.
8. Ecobee Smart Thermostat
Dads are universally known for saying, "Who touched the thermostat?!" Give him some peace of mind with the Ecobee Smart Thermostat!
Monitoring utility usage is all about efficiency, and Ecobee thermostats can be integrated with:
Amazon Echo Show and other Alexa devices
HomePod and select Apple devices
Google Nest Hub and Google Assistant
Ecobee Smart Thermostats make great tech gifts for dad. He can use the smart display or his phone to set the perfect temperature, monitor alerts, or set temperature routines.
9. Keurig K-Supreme Smart Coffee Maker
Even if your dad is famous for waking up at 6 AM on the weekends, chances are he can't get going without a cup of coffee. If your dad needs a cup of coffee before engaging in any human contact, get him a smart coffee maker.
The Keurig K-Supreme is my favorite. Your dad can connect it to the Keurig app, schedule his daily coffee brew, and choose between five brew strength levels and six temperatures. Plus, it features BrewID technology, meaning each coffee pod is brewed for the best taste possible.
10. Rachio 3 Smart Sprinkler Controller
My dad claims his yard work is his therapy. But, taking care of everything that comes with a big lawn can get stressful for even the most outdoor-loving dads!
Amidst the dog days of summer, manually setting your sprinkler system for the proper times can be tasking. Smart sprinkler controllers make it easy.
The Rachio 3 lets you control your sprinkler system from the Rachio mobile app or through Alexa voice commands, a feature your dad will certainly appreciate instead of trekking into the garage or backyard on a hot, humid day.
It even uses weather-predicting technology to skip watering right before it rains, frosts, or when your lawn is already saturated!
11. TP-Link Kasa Smart Wi-Fi Plug
Efficiency is a focal point of smart home technology, and one of the best gifts you could get your dad is a lower electric bill.
The TP-Link Kasa Smart Wi-Fi Plug lets you remotely "plug" and "unplug" things from the wall on a set schedule, and it can be used indoors (or this model for outside). This is especially helpful during the holidays when Christmas lights and decorations use a lot of electricity.
You can even tie smart plugs to outdoor sensors for automatic light illumination or a smart speaker to play music in an instant.
12. A Tech Supportal Subscription
Most dads will never ask for help when it comes to technology. If the fear of asking for help has stopped your dad from investing in smart home technology, sign him up for a Tech Supportal subscription.
With Tech Supportal, your dad can access 24/7 phone or chat support from professionals who can troubleshoot any device under the sun.
Whether he's having problems setting up a device, using voice control, or anything else, Tech Supportal can help.
Don't think your dad wants people to know he's having trouble with technology? Don't worry — it can be a secret between you and him.
Keep Reading