How to Control Samsung TV With IPhone as Remote ( Remote Alternatives)
When you buy through our links, we may earn an affiliate commission.
Have you ever lost your TV remote? Or the batteries died and you don't want to make that extra trip to the store to buy new ones? There is no need to worry! With the SmartThings app you can actually use your phone to control your TV. Simple things such as control the volume, change the channel, or pick out the next movie for family movie night.
Keep reading to find an in-depth guide on how to control your Samsung TV with SmartThings depending on what smartphone you own.
Control Your Samsung TV with SmartThings
You can control your Samsung TV directly from your iPhone with the SmartThings app. This app turns your phone into an extra remote for your TV. You first must make sure your TV is added as a device on the SmartThings app. Then you can use it to control your entire TV. This is how it works. 
Once you have your TV added to your device list in the app, follow these steps to enjoy watching:
Step 1: Open the app and select Menu.
Step 2: Select All Devices and select your TV from the list.
Step 3: After you do this, an onscreen remote will appear on your phone. The options available on the remote will vary depending on the model of TV.
Step 4: Both your phone and the TV must be connected to the same WiFi network in order to work.
Now, let's take a look at the different controls on this remote.
Controls for the SmartThings Remote
You can use the grey buttons or the box at the bottom to navigate the settings menu or apps. The controls available to you on this remote are as follows:
Volume up and volume down
Channel up and channel down
Home
Guide
Back
Continue reading for more ways to control your TV with your iPhone.
Use Apple AirPlay 2
Many apple products owners enjoy the ability to connect their apple device to their Apple TV with airplay. But you can just as easily connect your iPhone to a Samsung TV with Apple AirPlay 2. Most Samsung televisions that were made after 2018 support AirPlay 2. 
This app allows you to share the following:
TV shows
Movies
Videos
Music
Photos
Of course not all Samsung TVs support this apple feature. But as we progress, more and more of them are offering it out of the box.
TVs That Are Compatible With Airplay 2
Here is a list of TVs that are compatible with AirPlay 2:
2018: Smart Full HDTV N5300, 4K UHD TV, QLED 4K, Frame TV
2019: Frame TV, Serif TV, 4K UHD TV, 8K, and 4K QLED TVs
2020: Crystal UHD TVs, Premiere Projector, Frame TV, Serif TV, 8K and 4K QLED TVs
Now, let's take a look at how to connect your AirPlay to your Samsung TV.
Connect Your iPhone to Your Samsung TV With AirPlay 2
First, like the previous option, you must make sure your phone and your TV are connected to the same WiFi network.
Follow these steps to connect your iPhone to your TV to use AirPlay 2:
Step 1: On your iPhone screen, swipe down from the top right corner and open the Control Center.
Step 2: Tap the Screen Mirroring button.
Step 3: Select the Samsung TV option from the menu.
Step 4: If asked, enter the code shown on your TV.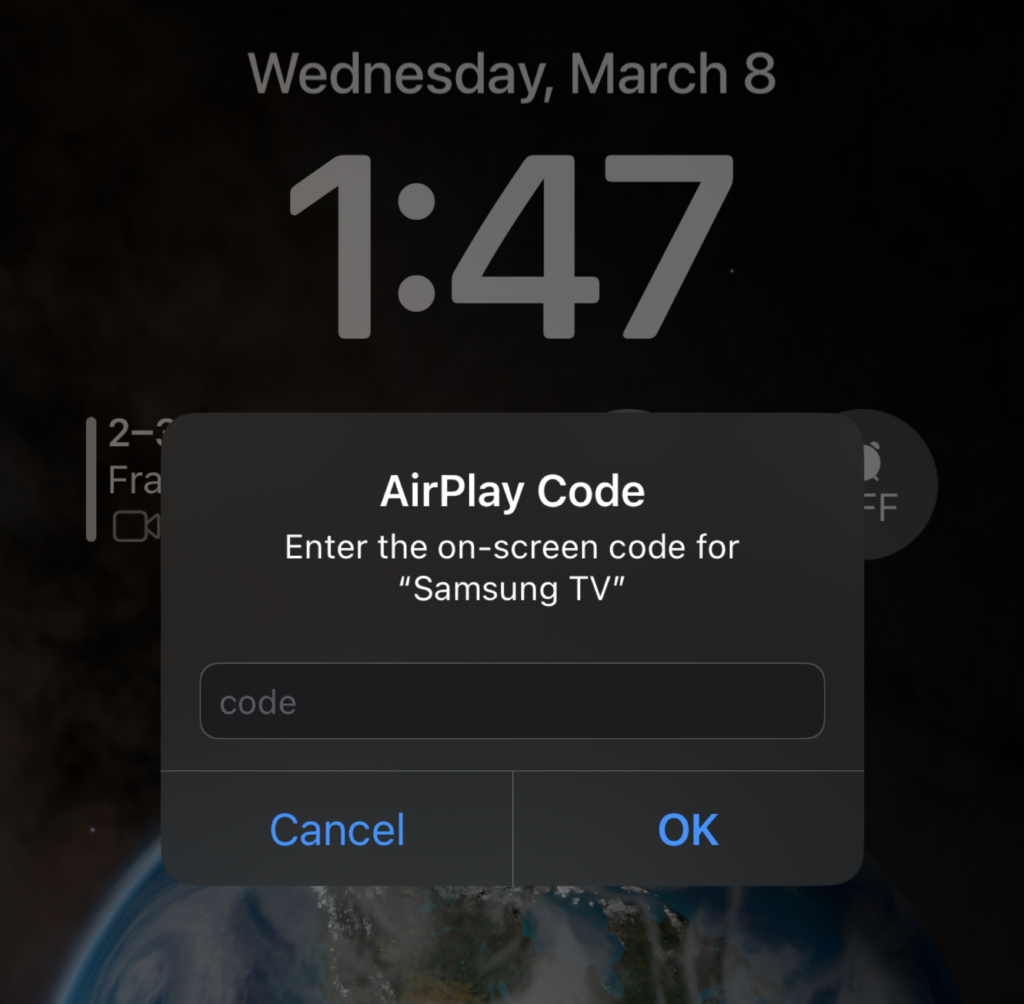 If you need any assistance with these steps, just contact Samsung support for any questions.
That's it! It's really that easy to connect your IPhone to the Samsung TV using AirPlay 2. If this does not work for you, explore HDMI options below.
Connect Your iPhone to Your Samsung TV With HDMI
Your Samsung TV may not support Apple AirPlay 2. But there is no need to worry. There is another option that will work for any model TV. 
You can connect your IPhone directly to your TVs HDMI port. All you need is an HDMI cord, and a Lightning to HDMI adapter. The best HDMI cord is one that would be long enough to reach to where it is you may be sitting. But a cord of any length will work the same.
Where can you find this Lightning to HDMI adapter? This can be found at any Apple store or on the Apple website. You can also find cheaper versions of this adapter at stores like Amazon and Walmart.
Once you receive the adapter, all you have to do is connect your iPhone to one end and the other end to your HDMI cord. Then just connect it to your TV as you would do any other device. Then you can use your iPhone to play whatever you want and it will appear on your TV.
With these being the best options to use your iPhone as an alternative remote, there is still another option that can be used as well.
Use Third-Party Apps
One other option is to connect your iPhone to your Samsung TV using third-party apps, such as Airbeam, to mirror your phone to your TV. Many of these third party apps may cause the picture to lag or stutter, but it varies for all users. 
This method is not recommended, but if you have a Samsung TV that does not supply AirPlay 2 then this is another option you could try. Just understand that your personal experience may vary.
Just Buy a New One
Of course if none of these options seem to work, there is still the option to order a new remote or purchase one from the store. You can buy one directly from Samsung's website.
If this is too expensive, there is always the option to buy an aftermarket universal remote control also. These can be found at most stores and work with most TVs.
Conclusion
If you don't have a remote and are wondering how you'll be able to turn on your Samsung TV, check out this article.
Keep Reading