How to Watch K-Drama on Samsung TV (3 Different Ways)
When you buy through our links, we may earn an affiliate commission.
It's no secret that South Korean media, particularly the K-Drama genre, has been gaining immense popularity all over the world in recent years. If you're one of the many fans of this unique form of entertainment, you might be wondering how to watch K-Drama on Samsung TV. Well, don't worry – we've got you covered!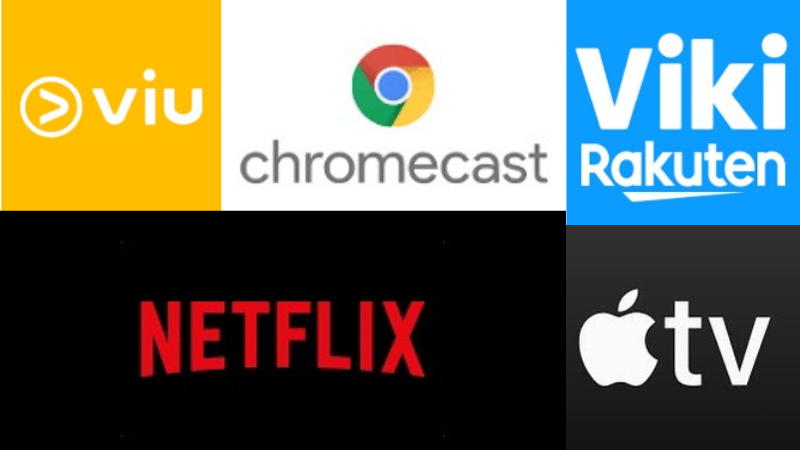 To watch K-dramas on Samsung TVs, you can do the following:
Watch on a Samsung TV with Viu.
Download a streaming app like Netflix or Rakuten Viki.
Use a streaming device like Apple TV or Chromecast.
In this article, we will provide three different ways for you to enjoy your favorite K-Dramas on your Samsung TV. Some involve downloading certain applications, while others revolve around purchasing specific equipment or streaming service subscriptions. Let's get started!
Purchase a Samsung Smart TV with Viu
One of the easiest and safest ways to watch your favorite K-drama shows and movies is to purchase a Samsung Smart TV that's equipped with the fabulous streaming provider, Viu.
Viu is a Hong Kong video streaming provider that gives viewers access to unlimited downloads of drama series, short films, and reality shows originating from Korea, Thailand, Malaysia, and several other nations. You can watch them in their language of origin or add subtitles of your preferred language.
Access to Viu content requires a subscription and, unfortunately, is only available to a select number of nations in Asia and Europe. Fortunately, there is a way to overcome this little obstacle.
Select models of Samsung Smart TVs are actually sold with Viu included, as well as a free subscription with your purchase. This will allow you to watch all the K-drama you want on an application dedicated to this type of entertainment.
Download and Install Streaming Service Applications
If you don't have the budget to purchase a brand new Samsung Smart TV equipped with Viu, the next best option would be to download and install a different streaming service that provides this content and pay for a subscription.
The best streaming options for K-drama on a Samsung TV include:
Rakuten Viki
Netflix
Asian Crush
Tubi
Amazon Prime Video
Some of these streaming options will allow you to watch select K-drama titles for free, while others will require a monthly subscription to access them.
Streaming services like Rakuten Viki, Kocowa, and Asian Crush are the superior options by far, but they might not be available for installation and download on your Samsung TV, depending on your location and where the TV was manufactured. This is why we also listed options more commonly seen in Canada and the US, like Netflix and Amazon Prime Video.
The selection of K-drama on these streaming services isn't as extensive as the ones previously listed, but you can still find some of the most popular and successful titles in addition to a few lesser-known shows and movies that'll keep you entertained for months.
How to Download and Install Applications on a Samsung TV
In order to download and install a new application on your Samsung TV, specifically a third-party application, there's a bit of a process you need to go through first.
To start, you'll want to enable developer mode by opening the "Smart Hub" and selecting the "Apps" panel. You'll then enter the code "12345" (unless you have a personalized code) using your remote or the on-screen keypad to unlock your screen.
From there, you can find the "Developer Mode" option and toggle it to "On." After you've done this, you'll need to enable installation from unknown sources by opening the "Personal" tab on your Samsung TV and then selecting the "Security" menu.
Again, enter the code "12345" to unlock the screen (or personal code) and enable the setting that allows third-party application installations.
Once you've finished this process and your settings are correct, you'll be able to go back to your Samsung TV's "Apps" menu and download and install any third-party applications available.
Connect a Streaming Device
Sometimes, Samsung TVs won't support the download and installation of certain applications you might need to watch that K-drama series you've been dying to see. In these instances, we recommend purchasing and connecting a streaming device that does.
Streaming devices are small digital media players you can connect to your TV or home theater through a USB port and Internet support that allows you to store and stream content.
Essentially, the applications and their entertainment options are housed in this hardware and played through your Samsung TV rather than originating from the TV itself. This allows you to overcome any barriers you might be experiencing with your Samsung TV, such as not finding certain applications available for installation.
The most popular streaming service devices include:
It's highly likely that your Samsung TV comes with one or more of these original applications already installed, such as Roku, which might give you the access you need to K-drama. However, if you want to increase your options, purchasing one of these affordable external media devices is often worthwhile.
Keep in mind that even with the streaming service device, you will likely still need to purchase a subscription for whatever application you're seeking unless it offers its content for free.
Final Thoughts
You might think it is near impossible to watch K-drama when you don't live anywhere near Korea, but with a Samsung TV and the right applications, it's easy! All you have to do is know the best streaming services and how to get them on your Samsung TV most effectively. If you're lucky, they already come with the streaming service's application or even subscription. If not, connecting an external streaming device usually solves the problem.
Keep Reading