How To Get Local Channels On A Samsung TV?
When you buy through our links, we may earn an affiliate commission.
Samsung TVs of today come with a plethora of streaming services and content providers for you to enjoy. However, sometimes you might want to watch local channels on your TV.
Here are 2 ways to get local channels on a Samsung TV:
Use an Antenna with your Samsung TV (or Cable Box)
Download Apps with Local Channels (Samsung TV Plus)
Use an Antenna for Local Channels on Samsung TV
The easiest solution is to get an antenna and install it on your TV. Antennas are great because they:
Provide HD or 4K channels
No subscription or monthly costs
Don't rely on an internet connection
We recommend this indoor Channel Master Flatenna or this outdoor Winegard Antenna.
How to Install an Antenna on your Samsung TV
Installing an antenna is relatively simple, follow these steps:
Plug the power adapter into a power outlet
Twist and screw in the coaxial cable into the back of your TV (labeled ANT IN)
Install your antenna in a high position
If you have a cable box with an antenna input, install the coaxial cable to the back of your satellite box instead.
Try not to have any objects blocking your antenna and that the coaxial cable is securely installed.
How to Scan for Local Channels on a Samsung TV
Follow these steps to get local channels on your Samsung TV:
Go to Settings on your TV
Select Broadcasting
Select Auto Program (or Auto Tuning)
Select Start
Select Air (if asked)
Your TV will scan for channels
Select Close when finished
Select Source on your remote to TV
You should now to be able to see local channels on your Samsung Smart TV now!
Why Don't I See Local Channels on Samsung TV? No Signal?
There are a few different reasons why you may be having issues.
Bad Signal
Bear in mind that with an antenna, there may be problems with signal interference if there are tall buildings around your property, if you have hills between you and the signal source, or during bad weather.
Try positioning your antenna in different positions and then scanning again.
Wrong Slot
If your Samsung TV isn't discovering channels during the scan, the antenna is in the wrong slot. Some TVs may come with two coaxial cable connectors, one for an external antenna (usually labeled "ANT" or "AIR") and one for cable.
If the source you selected does not match the connector with the antenna connection, your TV won't be able to find channels.
Software or Hardware Glitch
In case of an unsuccessful scan, you can also restart your Samsung TV to see if that solves the problem. Software or hardware glitches can sometimes interfere with such processes.
Switch off your TV and unplug the power cord. Plug it back in after a few moments and turn it on again. Repeat the process of selecting and finalizing the source to begin the scan.
Here's our guide on how to do a soft reset and cold boot:
Install Apps On Samsung Smart TV To Get Live TV Channels
Some apps and streaming services available on your Samsung smart TV app store can broadcast local TV channels without the use of an antenna. That includes popular apps like:
Samsung TV Plus is an app that automatically comes installed on your Samsung TV and offers great local channels such as news and weather channels based on your location. You can see the full channel line up here.
Peacock used to be a great free choice but they no longer offer a free tier.
Here is how you can download and install a third-party app on your Samsung smart TV:
Press the Home button to open the home screen.
Select Apps and then select the Search in the top right.
Type in the app you want to get and press on Install.
When the download completes, you can find your app on the home screen (or inside Apps).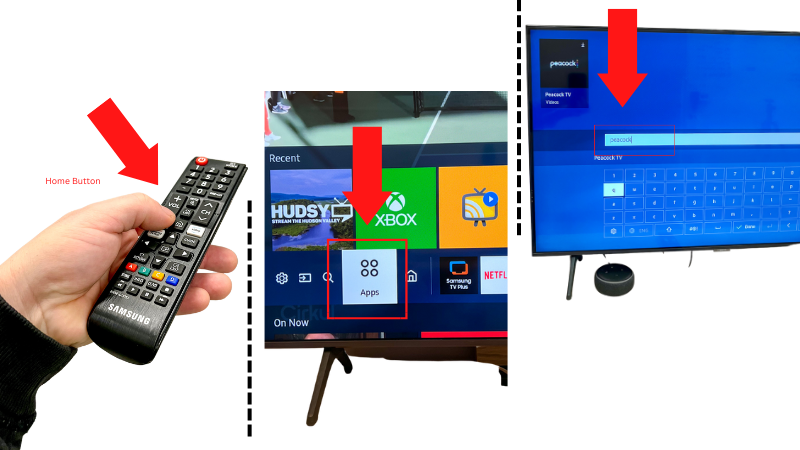 You will have to connect to Wi-Fi even when watching the local channels available in these apps.
Connect A Cable Or Satellite Box To A Samsung TV
Most cable and satellite providers offer local channels with all their offerings, which provides an easy way to get those channels on either a smart TV or non-smart TVs.
If you want to watch local cable TV or satellite channels on your Samsung smart TV, you can connect a cable or satellite box to your TV via an HDMI cable. Follow these steps:
Ensure that the TV and the cable/satellite box are off.
Plug an HDMI cable in the HDMI OUT port of the external device.
Connect the other end of the cable to an empty port on your Samsung smart TV.
Turn on both devices. Depending on what model TV you have, one of two things can happen:
Your TV may automatically recognize the external device and switch the source for content to the cable/satellite box, or it may not have detected the new connection. In the latter case, press Source on the remote control (or press Home and navigate to source on the home screen). Switch to the HDMI port with the external cable/satellite box connected.
FAQs
Samsung TV not recognizing antenna?
Confirm the coaxial cable for your antenna is being plugged into the ANT IN port.
Disconnect and reconnect both coaxial cables from your TV, cable box, or wall sockets.
Samsung TV channel scan not available?
If the channel scan on your Samsung TV isn't available or its greyed out, then there is not a solid connection to a coaxial cable. Try disconnecting and reconnecting it firmly with the pin in the center lining up.
How can I get local channels on my smart TV without antenna?
If you have a smart TV, it will be able to connect to the internet and download apps such as Sling TV or Pluto TV to watch free local channels.
Related Articles
Keep Reading