Can I Watch DirecTV on Roku?
When you buy through our links, we may earn an affiliate commission.
Even if you have a Roku TV or player, you may want to keep your DirecTV subscription. Here's how you can still watch DirecTV on your Roku device.
How to Watch DirecTV on Roku
DirecTV makes it easy for their subscribers to stream content on their Roku devices. As long as you have a DirecTV subscription, you can follow the steps below to start watching:
Turn on your Roku TV or device and select "Search" in the left-side menu.


Type "DirecTV" into the search bar using your Roku remote.


Select the DirecTV app when it appears.
Press "Add Channel" to install the DirecTV app on your Roku home screen.


Launch the app and login with your DirecTV account.

The DirecTV app operates like any other streaming channel. Just choose whether you want to watch live TV or view on-demand content.
Which Roku Devices Are Compatible with DirecTV?
For whatever reason, not every Roku device can stream DirecTV. However, you can get the DirecTV app on any of the following devices:
For the full list of compatible Roku devices and models, visit the DirecTV support page here.
What if My Roku Device isn't Compatible?
If you can't find the DirecTV app in the Roku Channel Store, there is one more way to stream it on your Roku device. While DirecTV doesn't support Apple AirPlay, it does support casting via Chromecast.
Most Roku devices don't support Chromecast. So for this to work, you'll need to connect a Chromecast dongle to your Roku TV or other smart TV, then follow the steps below:
Connect your Chromecast and the device you're using to cast to the same Wi-Fi network.
Open the DirecTV app on your compatible device, then find the show you want to watch.
Press the cast icon and select your TV from the list of available devices.
The show should now start playing on your TV.
Is DirecTV Stream or Roku Better?
If you primarily watch DirecTV and don't really use streaming apps like Netflix and Hulu, DirecTV Stream is a great choice. It's an internet-based service, so no satellite dish is required.
Once you set up your DirecTV Stream subscription, you can browse a variety of live and on-demand content on your TV, laptop, or smartphone.
However, you can't download different applications on DirecTV Stream like you can on Roku TVs and players. If you like to watch streaming-specific series, you'll need to stream it on Roku.
FAQ: DirecTV Stream on Roku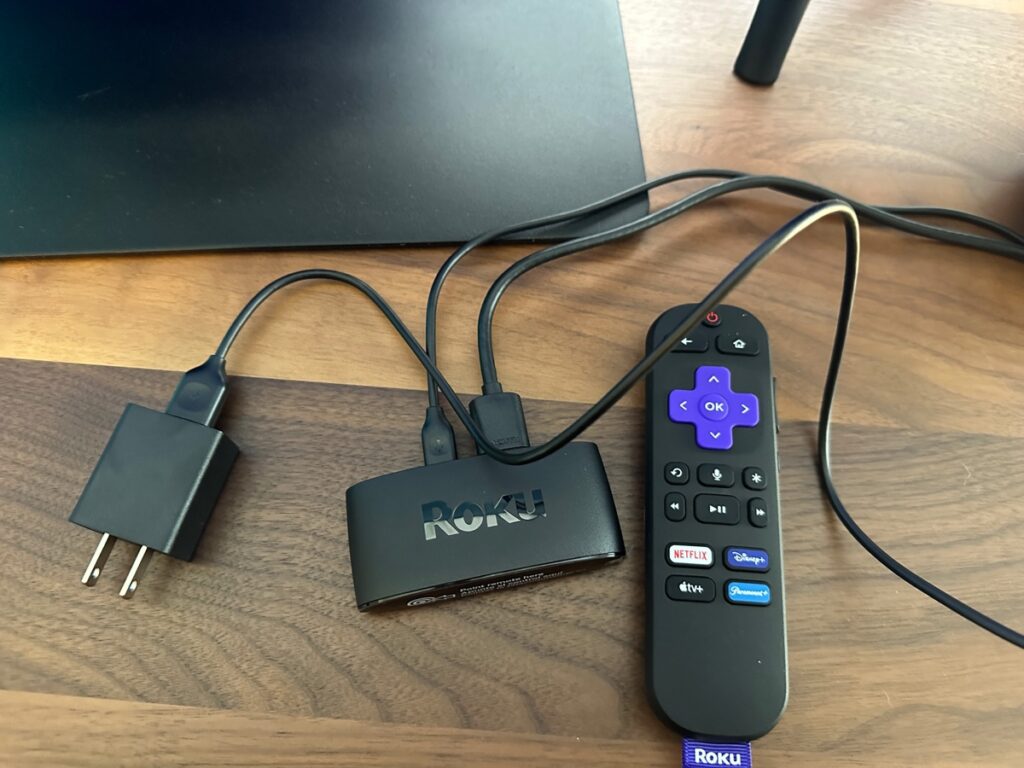 Why Can't I Find DirecTV Stream on Roku?
As of 2023, you can't find DirecTV Stream in the Roku Store. Instead, you'll just download the DirecTV app and use it for everything.
Once you login, you'll see all the available content for your specific DirecTV plan.
Can You Hook Up DirecTV to a Roku TV?
Like any other cable service, you can hook DirecTV up to a Roku TV. You can use any of the following cables to make the connection:
The best cable to use depends on what's included on your TV and the ports you have available. Once you decide, follow the steps below to make the connection:
Plug one end of the cable into your DirecTV box, then plug the other into the corresponding input on your Roku TV.
Select "Antenna TV" on your Roku TV home screen.
Press "Start Finding Channels" and wait for the scan to complete.
Press "Done" and go back to your home screen.
Select "Antenna TV" again and press "OK."
When Did AT&T and DirecTV Merge?
DirecTV and AT&T TV merged in 2015 when AT&T purchased DirecTV. In 2021, AT&T rebranded all their TV services into one under the DirecTV name.
Why is DirecTV Stream Not Working?
If DirecTV Stream isn't working or keeps buffering on your Roku TV, it could be because of:
A poor internet connection
Loose or damaged cables
Outdated software or firmware
Related Articles
Keep Reading