What Size Screws Do I Need For An LG TV Wall Mount?
When you buy through our links, we may earn an affiliate commission.
Mounting your LG TV is fairly straightforward. You can easily buy a wall mount from LG that is the perfect fit for your television, and usually, the product comes with the screws needed.
An LG TV uses M4, M6, and M8 screws for its wall mounts. You can find out what screws you will need based on the size of your TV and your VESA measurement.
Does the Screw Size for My Wall Mount Change with the Size of My LG TV?
When figuring out the right screws to securely mount your TV, keep in mind that their length and diameter change depending on the screen size of the TV and the VESA measurement.
The correct screw size also depends on what type of mount you purchased. The mount should come with the necessary screws.
If you want more, lost a few, or are curious about whichsize you are using, the size will be written in the mount manual.
| | | | |
| --- | --- | --- | --- |
| Screen Size | VESA Measurement | Screw Size | Best VESA Mount |
| Less than 28" | 75×75 | M4x10mm | Mounting Dream Wall Mount for 26"-55" TVs |
| 32"-45" | 200×200 | M6x8mm | Mounting Dream Wall Mount for 26"-55" TVs |
| 47"-65" | 300×200 | M6x10mm | Mounting Dream Advanced Tilt Mount for 42"-90" TVs |
| 70"-88" | 400×400+ | M8x15mm | Mounting Dream Advanced Tilt Mount for 42"-90" TVs |
| 90"+ | 600×400 | M8x15mm | LG Flush Mount for 97" OLED TV |
If you measured wrong or your TV doesn't have VESA mounting holes, you can buy an adapter that allows you to mount your TV properly.
Can I Use the Same Screws for a Stand?
If you don't have a place to mount your TV on your wall, there are stands that you can also purchase.
Thankfully, you can use the same screws you would use for a wall mount for a TV stand, and the same chart above can be used to figure out what size you need.
Ways to Know What Size Screws for an LG TV Wall Mount
You have your wall mount, television, and tools ready, but you still don't know what kind of screws you need. Some ways to figure out exactly what you will require include:
Checking the TV Manual. Your LG TV manual has written the exact size of the screws you will need for mounting. You can also get your screen size from the LG TV's model number.
Measuring. If you lost your manual, you can measure yourself using a pencil to see how far the screw has to go.
Checking the Size Chart. If you know the dimensions of your television and have a VESA measurement, you can use the chart above to determine what size you need.
Buying the Kit. Does this all sound a little too complicated? There is an all-in-one LG TV Mount Screw Kit available on Amazon that will work with any television and mount.
Don't forget to consider your LG TV's weight before mounting it to the wall.
How Do I Measure for a TV Mount Using the VESA Standard?
If you are a do-it-yourself person, learning more about the VESA standard will help you buy the right mount for your television to keep it safely in place.
The VESA standard is a consistent measuring system that allows you to determine the size of wall mount a TV will require.
Finding your VESA measurement is easy. You must find two measurements between the holes on the back of your TV. To do so, follow the steps below.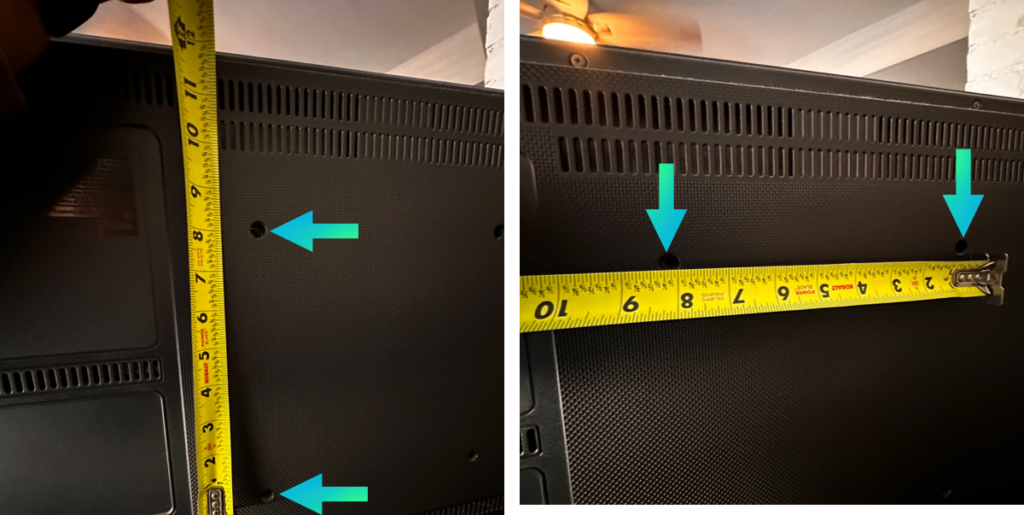 Measure horizontally between the top two holes in millimeters
Measure vertically between the top and bottom hole in millimeters
These two numbers are your VESA measurement. Once you've set up your LG TV, don't forget to adjust its settings.
What to do if the Recommended Screws Don't Fit
If you have bought what you thought were the correct screws for your VESA mount and they don't fit, here are some possible solutions:
Check Your VESA Measurement. If your screws aren't fitting, make sure you measured your TV correctly first.
Use Washers. If your screws are too long or you need to space things out, you can use washers with your screws until the back is flush with the mount.
Buy Shorter Screws. Sometimes, the screws that come with mounts or TVs might be too short. You should buy screws that reach the thread points and don't stick out too far.
Drill Holes. Another issue that might cause your screws not to fit is the hole being too small. You can take a drill that is slightly bigger than the hole to widen it carefully.
Your TV must be mounted properly to ensure it does not come off your wall. Some quick tips for this are:
Make sure there's enough space on the wall for the TV and studs if the mounts require it.
Ensure your TV doesn't exceed your mount's weight limit
Make sure all screws fit well without making too many adjustments
Always make sure you can get behind the TV to access the ports
After troubleshooting and utilizing these solutions, hopefully, you will be able to mount your TV properly.
Related Articles
Keep Reading