Does Google Home Hub Work with Echo Dot?
When you buy through our links, we may earn an affiliate commission.
Amazon and Google are the biggest names in the smart home speaker market. Their Echo Dot and Home Hub products can seamlessly manage your home's smart technology and help you stay on top of things. So, can you use these two devices together?
You cannot control the Google Home Hub and Amazon Echo Dot together. They are smart speakers with their unique technology. However, they can co-exist, complement each other, and even play back audio from the other device.
Do you have Home Hub and Echo Dot in your smart home? Here's what you need to know.
Can I Connect My Google Home Hub to My Echo Dot?
The Google Home Hub and Amazon Echo Dot are leading smart home speakers. Among their many capabilities are performing tasks such as
Answering questions through their respective Google Assistant and Alexa platforms.
Managing smart devices throughout your home.
Playing music and audio content.
With so many uses, it stands to reason that the Google Home Hub and Amazon Echo Dot would form a powerful smart duo. Whether by sharing or splitting tasks, these are the ways to utilize both devices under the same roof.
Connecting Your Google Home and Echo Dot Speakers via Bluetooth
Google Home Hub and Amazon Echo Dot are smart speakers with robust voice assistant capability. If you own both but prefer the sound quality of one device, you can direct all audio to play on that speaker. This can be achieved through Bluetooth connectivity.
Let's say you want all audio to play on your Google Home Hub speaker. Music playback and other audio content would come from that device. You can even play Alexa audio on your Google Home Hub. Here's how.
Enable both devices for pairing using the voice command "Pair Bluetooth."
Open the Alexa app and tap on "Devices."
Select your Echo Dot and then open "Bluetooth Devices."


Tap "Pair a New Device."


Alexa displays available devices, including your Google Home speaker.
Tap on your Google Home Hub to connect it to your Alexa device.
With your Google Home speaker and your Echo Dot, Alexa can respond to voice commands through your Google device.
Making Google Home and Echo Dot Work Together
Deciding which smart speaker to use can be tough if you have a Google Home Hub and an Amazon Echo speaker.
Fortunately, you don't have to. Here are some tips for getting these two devices to work harmoniously to make your smart home automation run smoothly.
Choose the Best Location for Each Device
When you have two different smart speakers in your home, location matters. Getting the most out of each device requires identifying which tasks they perform best. Part of this is deciding where to place them and how to use them.
For instance, Google Home Hubs are known for having a robust speaker. This device would be perfect for placing in your kitchen which could be used to recite recipes or provide daily reminders.
On the other hand, a smaller Echo Dot, with its weaker sound system, might be better for small areas like an office or bedroom.
Use IFTTT to Create Triggers and Automations
Smart speakers like an Echo Dot can be a smart hub for controlling an entire smart home. With IFTTT, you can expand the capabilities of Home Hub and Echo Dot by connecting different apps, platforms, and devices.
With applets and connections, you can empower your Google Home Hub and Amazon Echo Dot to work together. IFTTT automations enable these devices to work together in ways they otherwise couldn't.
Here are a few examples of what IFTTT can allow you to do with your smart speakers:
Create personalized trigger phrases for Google Assistant and control how it responds.
Empower your Google or Amazon voice assistant to interact with third-party apps and devices and perform unique tasks.
Automate functions like Google Calendar and connect them to Alexa.
Use Alexa to find your smartphone.
Automate video calling using a smart display like the Amazon Echo Show.
Organize Your Automations
To maximize the functionality of two smart speakers, it's best to keep their workloads separate. Split tasks relating to your schedules and routines so each device performs duties it's best at doing and that the other cannot do.
Organize automations to avoid duplication of tasks between the two devices. Designate each device to perform specific actions and avoid assigning the same automation to both smart speakers. For instance,
You can use your Google Home Hub to update your calendar via voice commands.
Have Alexa turn on your porch light every evening at sunset and turn it off at sunrise.
Set Google Home Hub to automatically display new pictures from a shared photo album.
Have your Echo Dot run your robot vacuum when no one is home.
Comparing the Capabilities of Google Home Hub and Amazon Echo Dot
Even if you are partial to one device, it may be a good idea to have both a Google Home Hub and an Amazon Echo Dot in your smart home. This is because each can do things that the other cannot. Here are a few examples.
Things Google Home Hub Can Do That Amazon Echo Dot Cannot
Give you the most options for your assistant's voice.
More wake words. Google Home will wake when you say "Hey Google," "Ok, Google," and adorably, "Hey Boo Boo."
Complete up to three voice commands at a time. Google responds efficiently when you tell it three commands in a row. Say, "OK, Google, turn on the heat, turn the volume to four, and play my Goodnight Playlist."
Things Amazon Echo Dot Can Do That Google Home Hub Cannot
Control devices with a remote: You can use the FireStick remote to give your devices voice commands. 
Easily track your packages on Amazon.
Integrate AI virtual assistant in your car with Echo Auto.
Help you shop on Amazon: Use Alexa to check the status of your orders and place orders for you.
Can Home Hub and Echo Dot Communicate With Each Other?
Google Home Hub and Amazon Echo Dot cannot be used to control each other in a conventional sense, nor can they communicate with each other directly. But they are perfectly suitable to co-exist under the same roof.
You can connect each of these smart speakers to various devices throughout your home and use either one to command functions. Just be sure to use one or the other and not both simultaneously.
Wake Words
One of the keys to avoiding a conflict between a Google Home Hub and an Amazon Echo Dot in your smart home is to mind your wake words.
For a Home Hub, the default wake words are "Hey, Google" or "Okay, Google."
For an Echo Dot, the default wake word is "Alexa." This can be changed to "Amazon," "Computer," or "Echo" if desired.
You shouldn't worry about triggering one device with the other's wake word.
Music Streaming With Home Hub and Echo Dot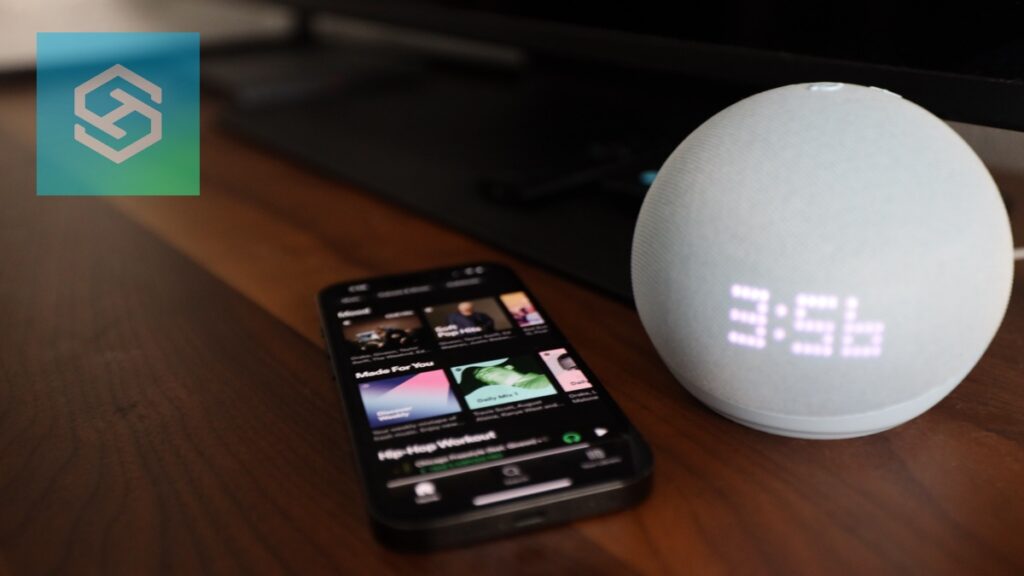 Being smart speakers, one of the more popular uses for Google Home Hub and Amazon Echo Dot is playing music. The voice assistant feature does not have to be enabled for these speakers to play music.
Both of these platforms support the following music streaming services:
Apple Music
Deezer
iHeartRadio
Pandora
Sirius XM
Spotify
TuneIn Radio
Controlling Matter-Enabled Devices With Both Alexa and Google Home
Matter is a universal standard for smart home devices enabling them to connect and interact seamlessly. Both Alexa and Google Home are compatible with Matter-enabled devices. This connectivity broadens your command of various smart devices throughout your home.
These are the Google devices that are compatible with the Matter platform:
For smart speakers: Google Home, Google Home Mini, Google Nest Mini, Nest Audio
For smart displays: Google Nest Hub (1st and 2nd gen.), Nest Hub Max
These are the Alexa platforms that will work with Matter devices:
For smart speakers: Echo, Echo Dot, Echo Studio, Echo Flex, Echo Plus, Echo Pop
For smart displays: Amazon Echo Show
Related Articles
Keep Reading